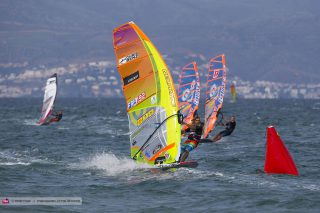 Sommerferien er ved at være slut og efterårssæsonen står for døren.
Der er tilmeldingsfrist til 4. afdeling af Formula/Slalom DM i dag, onsdag den 3. august i Klubmodul.
Husk også at der er tilmeldingsfrist til PWA-stævnet i Hvide Sande på mandag den 8. august. Se detaljer på PWA og send nedenstående til mail til entry@pwaworldtour.com, hvis du vil være med.
Stævnet ligger direkte i forlængelse af WaterZ i Hvide Sande og inden DM stævnet i Ringkøbing – så tag ugen fri og sejl alle 3 stævner i Ringkøbing Fjord!
Der er gode muligheder for at få plads til stævnet, selvom man ikke tidligere har sejlet PWA stævner. Der tildeles en række wild cards til sejlere, der ikke ligger på PWA-ranglisten. 13 pladser uddeles af PWA, 4 af WaterZ og 2 af DBO. DBO wild cards uddeles pba. resultater for DM 2015 og NM 2016.
Hos kvinderne, får alle deltagere typisk plads.
Tilmeldingsmail, som skal sendes til entry@pwaworldtour.com:
From: Vivienne Masters [mailto:entry@pwaworldtour.com] Sent: 03 August 2016 07:41 Subject: Entry Form THE 2016 HVIDE SANDE PWA WORLD CUP
This is the 3rd and FINAL submission of this entry form.
If you have already replied and have received a receipt, please do not reply again. Entry forms are automatically sent 3 times.
If you DO NOT receive a Receipt within 24 hours, please apply again!
Closing Date August 8th, 2016
PWA Entry Form
THE 2016 HVIDE SANDE PWA WORLD CUP
THE PWA OFFICIAL E-MAIL ENTRY APPLICATION
for pwa members
CONDITIONS OF ENTRY- 2016 HVIDE SANDE PWA WORLD CUP
no entries will be accepted unless received by reply to this e-mail, STATING NAME, SAIL NUMBER, GENDER AND DISCIPLINE(S) ENTERED
submitting an entry form does not automatically guarantee a slot in the event
verbal entries will not be accepted
A Notice of race will be sent by e-mail with confirmation of entry to all sailors accepted to the event
sailors will have one week after receipt of the Notice Of Race to confirm their participation: withdrawal after this date for the event will incur a fine
sailors must provide the PWA ENTRIES DEPARTMENT (entry@pwaworldtour.com) with a current e-mail address so that they can receive the Notice of race and all other relevant information
please keep a copy of this form for your records
detailed information can be found at
http://nor.pwaworldtour.com/Denmark_2016_sailor_info.htm
EVENT:                       Denmark Slalom
STATUS:                     WORLD CUP
DATES:                       04.09.16 – 09.09.16
PRIZE MONEY:           €40,000 Men
€15,000 Women
DISCIPLINES:             SLALOM
CLOSING DATE:         08.08.16
NOR DUE:                 11.08.16
TO ENTER, REPLY TO entry@pwaworldtour.com STATING NAME, SAIL NUMBER, GENDER AND DISCIPLINES ENTERED
| | |
| --- | --- |
| ENTRY PROCEDURE | POSITION |
| Previous years PWA Slalom Ranking | 1-24 |
| Current PWA Slalom Ranking | 25-45 |
| PWA Wildcard | 46-58 |
| National Association Wildcard | 59-60 |
| Organizer Wildcard | 61-64 |
Wildcard applications are sent to a voting committee, which will take into consideration your windsurfing history, goals and experience.
Wildcard Application Form Please fill in ALL INFORMATION!  Attachments jpgs or word documents will not be accepted.
Name:             Sail  #:        Nationality:    Age:        Sex: Male
Event : HVIDE SANDE Denmark  World Cup                    Discipline: Slalom
Windsurfing History  (Including any past competition results):
Windsurfing  Ambitions:
Sponsors:
Previous Events Applied  For: