Storm and huge waves for the first day of Danish Open Windsurf Wave/Freestyle Championship 2023 week 42.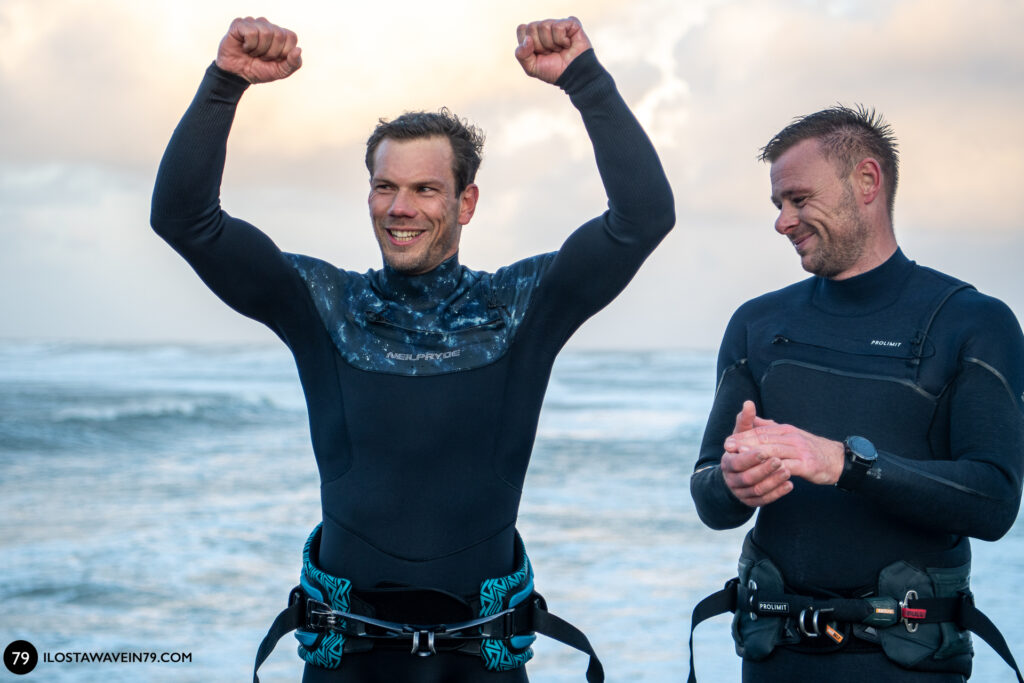 After a quick registration at Surf Club NASA, the whole circus moved to Fiskemel in Hansholm for a skipper meeting and an eye-opener for many, because there was really a lot of action in the stormy gale up to 27 m/s, huge waves on the outside and well-shaped on the inside. A wave started, everyone else was exempted for the rest of the day. Most sailors were on their smallest equipment, that is 3.0 and 3.4 🙂 But they fought well in the sometimes unstable wind. In the third round, there were many familiar faces, and the biggest surprises were probably that Henri Kolberg knocked out Liam Dunkerbeck and moved on to the quarterfinals, Kenneth Danielsen also moved on with a victory over Anton Richter, and Tobias Bjørnaa took the win against Bjørnå Senior, who then had to admit defeat by 0.5 points and cash in his lowest ranking outside the top 4 in the last 20 years. The youth must come to 🙂 The last man on was Leon Jamaer, who beat a well-sailing Simon Thule. Semifinals and finals were right on and hard with a super show, where they showed fine wave rides and high impressive jumps. The top ranking after round 1 was:
1. Leon Jamaer
2. Kenneth Danielsen
3. Tobias Bjørnaa
4. Henri Kolberg
Thanks for a great first day, we are back tomorrow with another fantastic weather forecast. We hope to move on in round 2 of A wave, but maybe start on B wave, ladies and freestyle.
Day 2.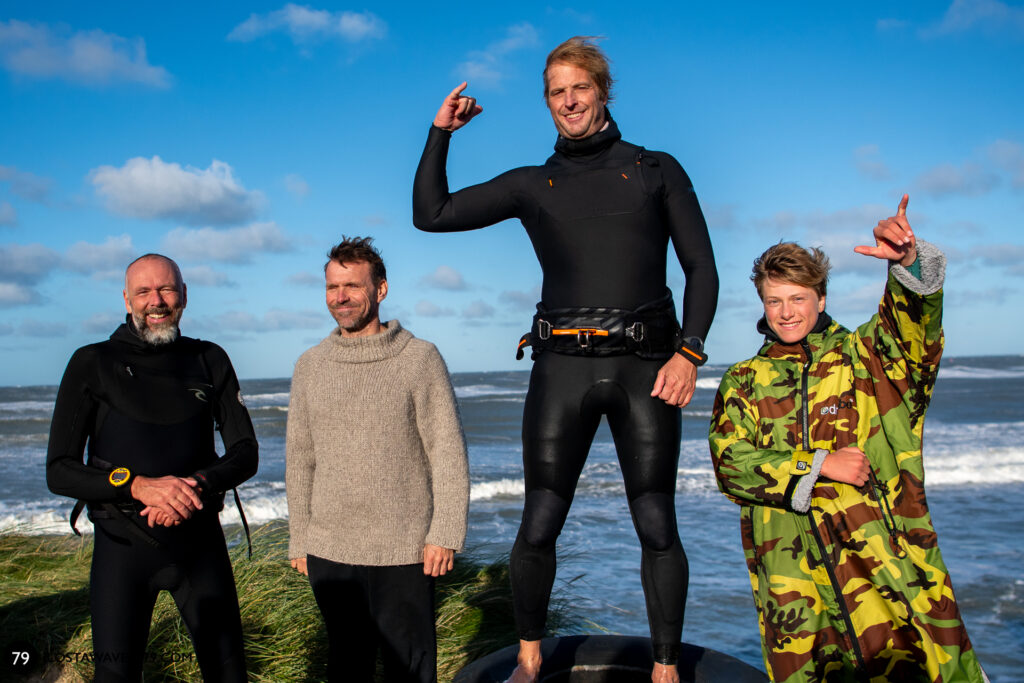 Now with more moderate wind, only around 40 knots 🙂 But blue sky and good waves rolling in on the beach in Fiskemel and with a good dose of action.
Wave B-fleet was on the program, and they sailed 1 round in good conditions with fine heats and fun on the water.
1. Gaebgen Gerry
2. Emil Skov Nielsen
3. Asger Fonnesbech
4. Jörg Bubelach
Day 3. Rest day
Day 4.
Side-on wind and waves around 2m were on the menu for the women, with 10 to 12 m/s and sunshine, but fading fast. In the first heat, Sol Degrieck passed Runa Krubbenhöft and Sol faced Caroline Weber, passing by a small margin and made it to the final. On the other side, Sybille Bode met Stine Bøttern, both having a hard heat but Stine showcasing some of the better wave riding, making it to the final with Sol. In the small final with fading light and nice sailing, Caroline Weber took 3rd place. In the final, we saw good action and a first place to Sol.
1. Sol Degrieck
2. Stine Bøttern
3. Caroline Weber
4. Sybille Bode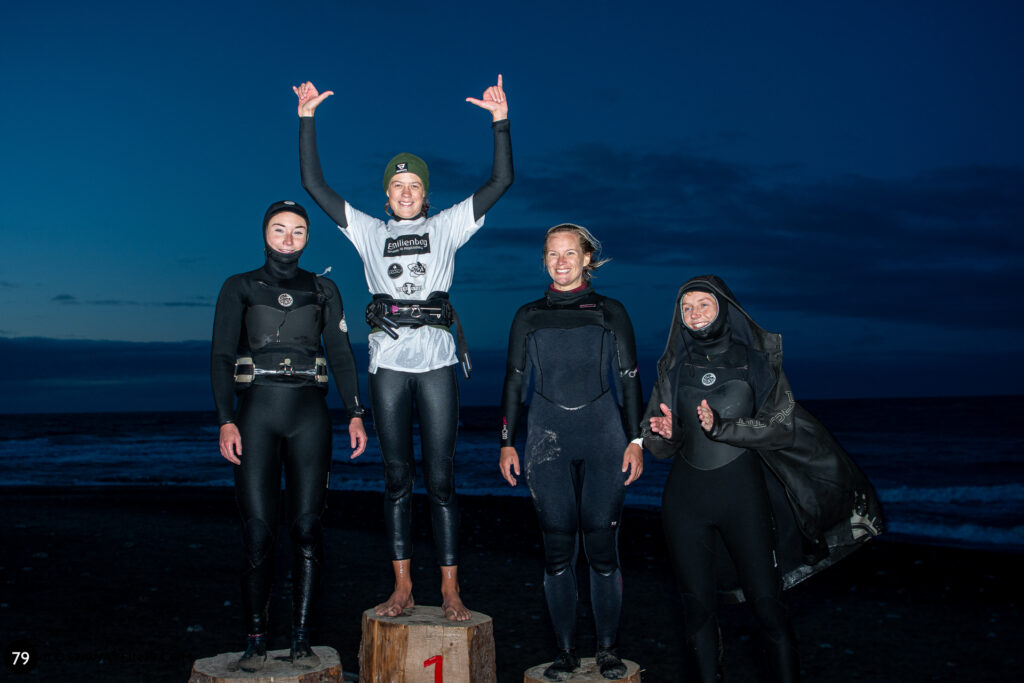 Day 3. Rest day
Day 6,
Top A-fleet Freestyle in Krik with the Danish Open Windsurf Wave and Freestyle Championships 2023.
1 Rasmus Øgelund
2 Noah Willumsen
3 Christian Ferraro
4 Anton Richter
Youth Freestyle in Krik final result.
1 Anton Richter GER-6
2 Samuele Ferraro ITA-505
3 Tobias Bjornaa D-36
4 Carlos Kiefer Quintana G-242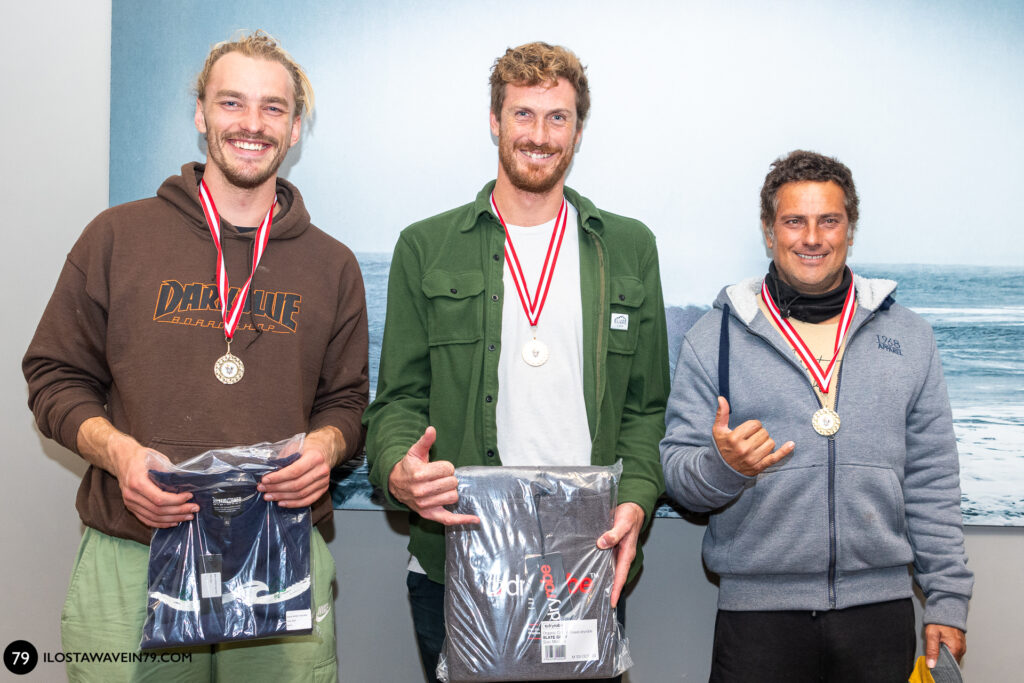 Party and price giving in the evening.
Full result for week 42 2023:
Danish Open Freestyle Junior after Double Elimination
1 Anton Richter
2 Samuele Ferraro
3 Tobias Bjornaa
4 Carlos Kiefer Quintana
5 Anton Aalborg
6 Kymani Laurent
7 Emil Skov Nielsen
7 Bjorn Olesen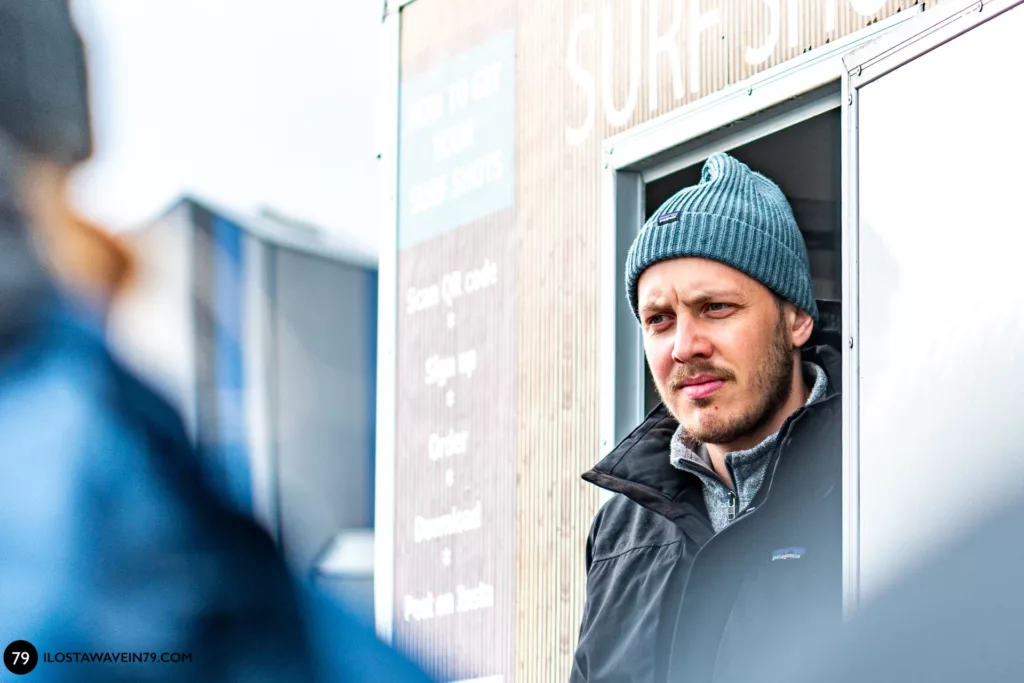 Danish Open Freestyle A after Double Elimination
1 Rasmus Øgelund
2 Noah Willumsen
3 Christian Ferraro
4 Anton Richter
5 Kasper Gaj
6 Mads Bjørnaa
7 Tobias Bjornaa
7 Anton Aalborg
9 Simon Thule
9 Asger Fonnesbech
9 Malte Øgelund
9 Michael Falkenberg
13 Bjorn Olesen
13 Nicolaj Klitgaard Frederiksen
13 Allan Hagner
13 Samuele Ferraro
17 Carlos Kiefer Quintana
17 Kymani Laurent
17 Emil Skov Nielsen
Danish Open Wave A after Single Elimination
1 Leon Jamaer
2 Kenneth Danielsen
3 Tobias Bjørnaa
4 Henri Kolberg
5 Anton Richter
5 Liam Dunkerbeck
5 Mads Bjørnaa
5 Simon Thule
9 Nicolaj Klitgaard Frederiksen
9 Mikkel Asmussen
9 Nico Bagschik
9 Mats Von Holten
9 Noah Willumsen
9 Michal Dziewiecki
9 Marlon Maethner
9 Lars Gobisch
17 Lasse Mummenbrauer
17 Lars Bubelach
17 Malte Øgelund
17 Rasmus Øgelund
17 Kasper Gaj
17 Sebastian Ball
17 Martin Ten Hoven
17 Hannes Gobish
17 Caroline Weber
Boys Under 20 Final wave
1 Liam Dunkerbeck
2 Tobias Bjornaa
3 Marlon Maethner
4 Hannes Gobish
5 Samuele Ferraro
6 Lars Bubelach
7 Quinn Aurichr
7 Kymani Laurent
9 Oliver Desforges
9 Jake Ghiretti
9 Anton Richter
Boys Under 17 Final wave
1 Carlos Kiefer Quintana
2 Leon Maethner
3 Ryu Noguchi
4 Fernando Sottile
5 Arthur Van den Brande
6 Ercole Rosso Chioso
Boys Under 15 Final wave
1 Peter Gobisch
2 Bjorn Olesen
3 Javier Escribano Toribio
4 Emil Skov Nielsen
Boys Under 13 Final Wave
1 Mika Henning
2 Liam Calo
3 Anton Gobish
4 Lorenzo Raisa
Girls Under 20 Final Wave
1 Sol Degrieck
2 Emma Miron
3 Trine Gobish
4 Frida Miron
5 Runa Krabbenhöft
6 Smilla Petersen
Danish Open Freestyle Junior after Double Elimination
1 Anton Richter
2 Samuele Ferraro
3 Tobias Bjornaa
4 Carlos Kiefer Quintana
5 Anton Aalborg
6 Kymani Laurent
7 Emil Skov Nielsen
7 Bjorn Olesen