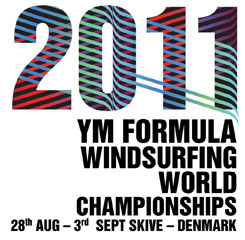 We had the first day of the event to register all our equipment. I started the daywith 6 long hoursin school! After that I went to Skive Harbour to join the event. First I had to find the guy that checks in all the equipment, as he had to sign for my equipment. Soon after, many of my old and new friends joined me at the opening ceremony, where we saw the event organiser fire the opening shot. Everyone was just so exited – you could almost feel it in the air!
Day 2
Alreadyfrom early in themorning there was a strong wind. The boats on therace course measured approximately 22-27 knots most of the time. The first fleet on the water was masters and grand masters.  I wanted to be ready for my start, so I was out there testing my sail and board, and there was so much wind out there -argh,,,,! On my way out, I saw many of the very good master sailers, struggling to get to the shore without even completing the race !!! .  I made a few adjustments to my sail and board, and was ready for race comitee to call us on the water. The first start was perfect, and I was in full control,,,,,YES,,,,,I was first at the top mark, and the guy's at the top mark cheared me on as I was rounding the mark – at that very second where I stepped intothe chicken strap a big gust knocked me down,,,,! I struggled to get up and fought my way back to a 5. place. The next races I was 100% prepared, everything was working for me and I finished in 2. place in all the races, just behind my training partner DEN-24 Sebastian Kornum. Showing all the other competitors how fast I am in strong winds – that was really satisfying 😉 I was in 2. place over all after 4 races -what a deam start of this event.
Day 3
The day started with winds around 12-15kt. So I had to go on my big equipment, as we were the first to go out. I got a big surprise, as a lot of the guys weresailing very fast in those conditions. I finished 9., and I didn't getbetter in the next race: A badstart, and bad first upwind, but a bit better with good down wind and a second good upwind. For the last race I had prepared myself better and I ended in 6. place.
Day 4
Thursday came with evenlighter wind, but this time I was more prepared for it.And I sailed with a lot fewer errors. My results improved and I ended with a 5.,4., and 9. but still I feel that I can improve a lot, on several parts of my sailing.
Day 5
After 11 good races in different conditions, the weather did not allow us to go racing today. I think many werehappy with aday of relaxing – including myself. Tomorrow is the final day and it looks like we are gonna have light and shifty winds.
Day 6
We got one race in light conditions – and I finished in 9 place. Overall a 5. place in this World Championship.
Conclusion
My goal before the event was to finish within the top 5 – and I will have to say that many very goodsurfers cameto this event, and that I am very pleased with my result. This is myfirst year in the under 20 year group – and I still have the next 2 sesons to do my very best to win the World Championship title, which is my ultimate goal. I have found a lot of things that I can improve – and now together with my coach and trainer, I will start preparing for the next event and the 2012 seson. "I will be back" !
Hang loose – Christian Justesen / DEN 26